Sam The Chiropractor and DNJ Fitness Share Grand Opening For Chino & Chino Hills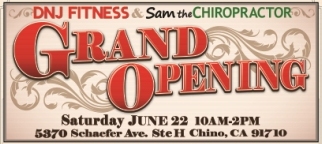 Chino, CA — Sam The Chiropractor and DNJ Fitness announced they will team up for a duel Grand Opening set for Saturday June 22. They will be located at 5370 Schaefer Ave., Suite G, Chino, CA. The Grand Opening event runs from 10 a.m. to 2 p.m. and features demonstrations of kick boxing (Nray's Fitness), weight lifting (There Is No Quit Fitness), yoga (Derek Black Yoga) and more.
There will also be music, food, and vendors to create a complete festival atmosphere for families. Games and activities are also planned for kids along with giveaways, raffles and chair massages by Chino Massage Therapy. This should be one of the funnest grand opening events in Chino.
"As a chiropractor in Chino who spends his days helping people with all kinds of physical problems, it made lots of sense to team up with DNJ Fitness where people of all ages can get into better shape, enjoy being active and live healthier lifestyles," said Dr. Samuel Ruiz, known in the Chino and Chino Hills area as Sam The Chiropractor.
Dr. Sam and the trainers at DNJ Fitness (Nray Lavitrungsima, Derek Black, and Joshua Baumgarten) all graduated from local Ayala High School in Chino Hills. "It's with great excitement and enthusiasm that we open our businesses to serve the communities we grew up in," Dr. Sam said.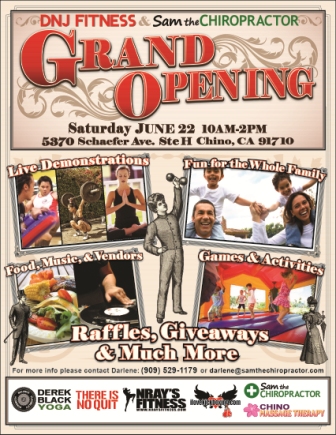 Dr. Samuel Ruiz is a Licensed Chiropractor in Chino and has been in practice since 2008. He not only provides chiropractic services for the residents of Chino but also Chino Hills, Ontario, Eastvale and the surrounding San Bernardino County and Inland Empire. He graduated from Ayala High School in Chino Hills and is The "Go To" Chiropractor in the Chino Valley. He takes care of adults, children and pregnant women and makes getting adjusted regularly easy, fast and affordable. People come to see Sam The Chiropractor not just for neck pain, back pain and headaches but for a variety of health issues and has clients from zip codes 91710, 91709, 91708, 91752, 92880, 91758, 91761, 91762, 91764. Sam The Chiropractor "Restoring the Doctor Within" 5370 Schaefer Ave., Chino, CA 91710. Located off Schaefer and Central next to AMPM and Farmer Boys. Walk-Ins are Welcome. and no Insurance is Required. New Client Special Includes Consult, Exam & 1st Adjustment and you can schedule your first visit directly on our website, simply walk-in during our normal office hours or by calling (909)529-1179.
Tags: 91709, 91710, california, chino, chino hills, chiropractic, chiropractor, chiropractors, community events, dr. samuel ruiz, eastvale, fitness, health, June 2013, massage, ontario, personal training, trainers, wellness, yoga