Join Sam The Chiropractor for the Let It Be 5K Run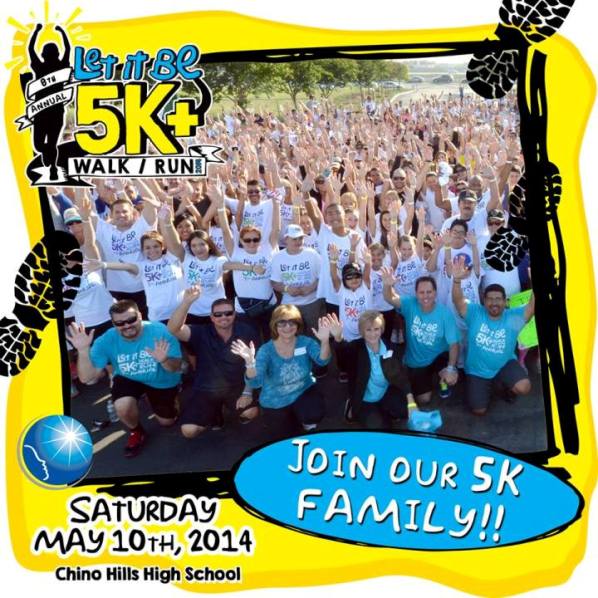 On Saturday, May 10, 2014 the Let It Be Foundation will be hosting their 8th annual Let It Be 5k run and community walk in Chino Hills, CA at Chino Hills High School. The Let It Be 5k is an exciting, highly ancticipated event in our community!
Registration at this point is $35 per person but only $30 per person for groups. If you would like to be a part of the Sam The Chiropractor Team you can register at https://theletitbefoundation.webconnex.com/20145KTeam . Just select team Sam The Chiropractor (password: run).
The Let It Be Foundation helps out  families of children diagnosed with cancer and other life threatening pediatric illnesses. Registration includes event run, t-shirt, water and pancake breakfast. Opening ceremonies start at 7:15am and start time for the 5k Run/Walk is at 8:00am.  The start/finish line is at Chino Hills High School.
Dr. Samuel Ruiz is a Licensed Chiropractor in Chino and has been in practice since 2008. He not only provides chiropractic services for the residents of Chino but also Chino Hills, Ontario, Eastvale and the surrounding San Bernardino County and Inland Empire. He graduated from Ayala High School in Chino Hills and is The "Go To" Chiropractor in the Chino Valley. He takes care of adults, children and pregnant women and makes getting adjusted regularly easy, fast and affordable. People come to see Sam The Chiropractor not just for neck pain, back pain and headaches but for a variety of health issues and has clients from zip codes 91710, 91709, 91708, 91752, 92880, 91758, 91761, 91762, 91764. Sam The Chiropractor "Restoring the Doctor Within" 5370 Schaefer Ave., Chino, CA 91710. Located off Schaefer and Central next to AMPM and Farmer Boys. Walk-Ins are Welcome. and no Insurance is Required. New Client Special Includes Consult, Exam & 1st Adjustment and you can schedule your first visit directly on our website, simply walk-in during our normal office hours or by calling (909)529-1179.
Tags: 91709, 91710, active lifestyle, california, chino, chino hills, chiropractic, chiropractor, community events, dr. samuel ruiz, health, runner, running, wellness